Verdura anti scaling scalp shampoo
Effective and quick solution for dandruff and scalp scales


A powerful combination of herbs and dual anti dandruff actives – Climbazole and Zinc pyrithione that makes it quick in its action against fungal species and prevents recurrence of dandruff. Effective in removing the scalp scales.
Uniqueness of this shampoo is, it has both  anti-dandruff + conditioning effect which gives a clear scalp and smooth hair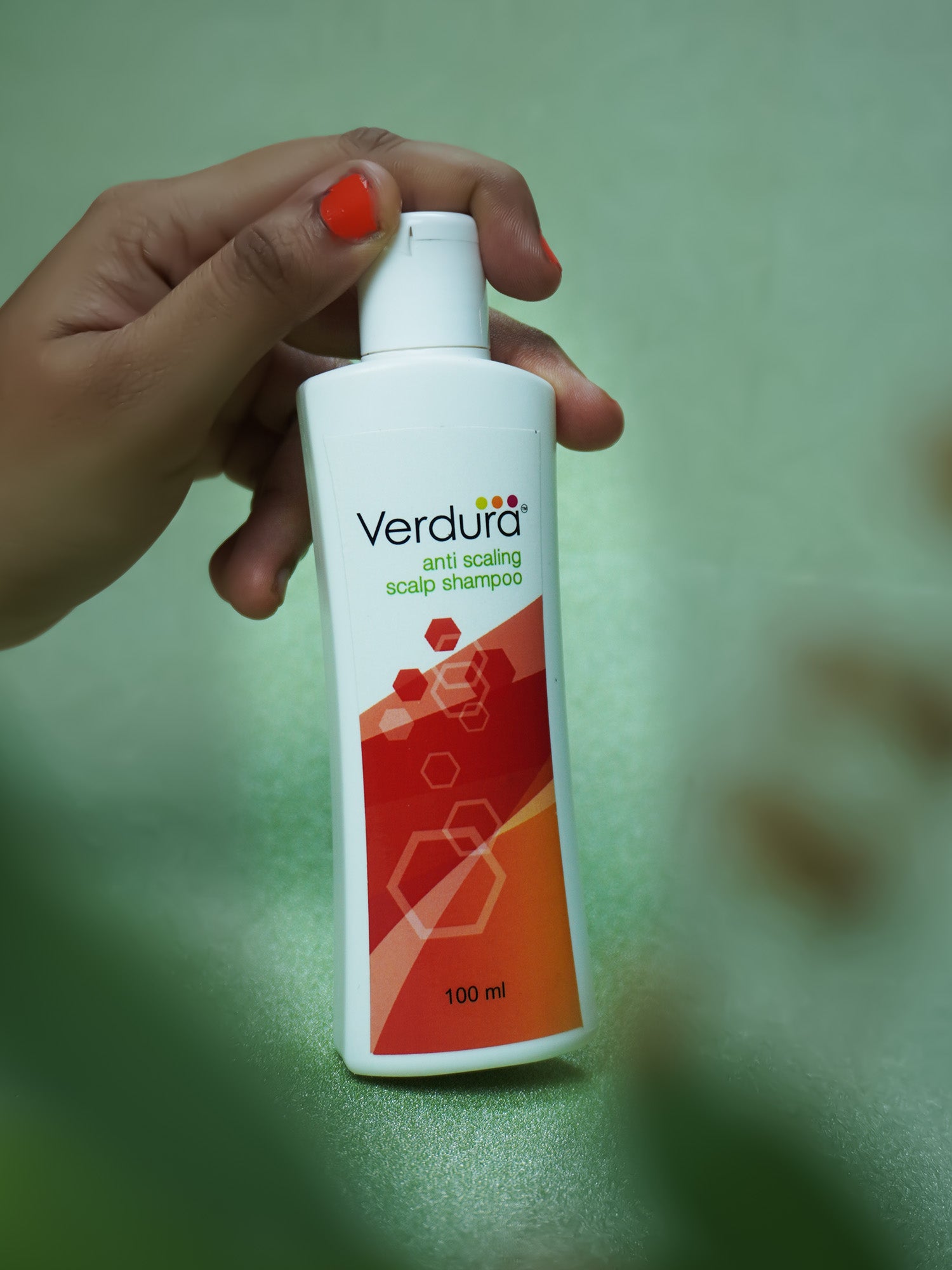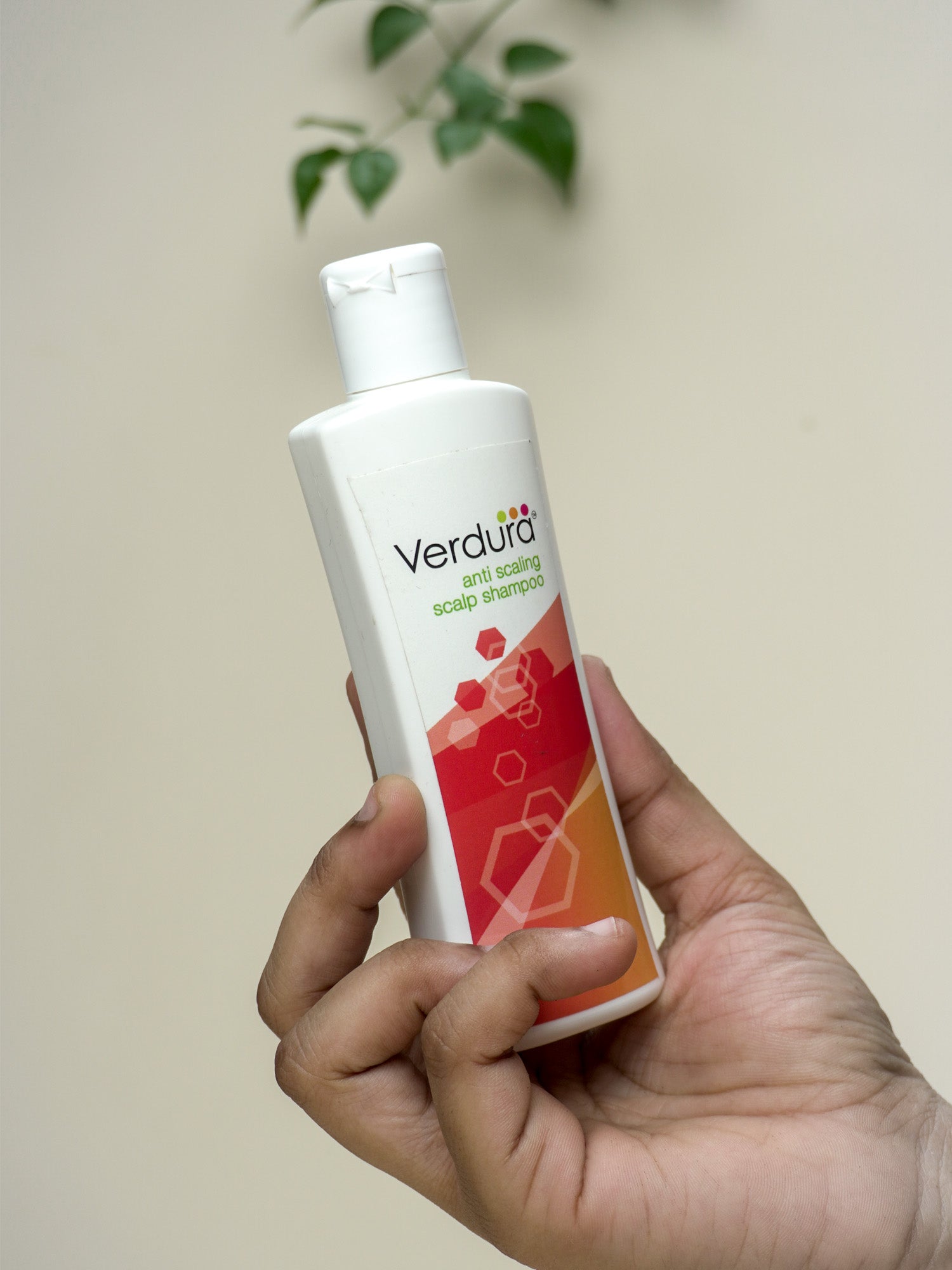 Benefits to skin
Exfoliates dry scales

Select conditioners give soft and manageable and tangle free hair

Kills dandruff causing microbes in just 2 minutes

Proven to be hypoallergenic and safe for long term use.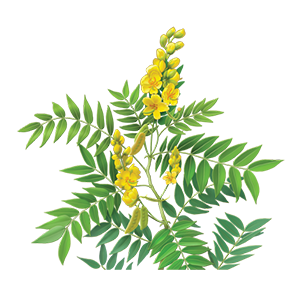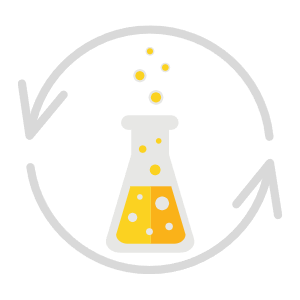 Cassia alata
Treats fungal infections on scalp, promotes a healthier scalp environment for hair growth. Improves overall hair health. Nourishes and strengthens hair strands. Reduces hair breakage.
Wrightia tinctoria
Controls itching & exfoliates scalp scales. Terpenoids & flavonoids possess anti- fungal properties which prevents the recurrence of dandruff .Reduces oxidative stress caused by free radicals that will lead to hair damage .
Aloe vera
 Moisturizes and hydrates hair, reduces dryness and brittleness. Reduces dandruff associated hair loss flavenoids & alkaleoids present in aloevera quickly kills dandruff causing fungi.
Climbazole and Zinc pyrithrione
Reduces scalp itching and irritation caused by dandruff. Combats dandruff and hyper scaling of scalp effectively. Ensures the maintenance of sensory and cosmetic properties of hair
Composition
Sodium lauryl ether sulfate(28% active matter), Coco Mono Ethanol Amide(CMEA), Cocoamido Proply Betaine [CAPB], Glycerin, Coco Di Ethanol Amide [CDEA], Climbazole, Zinc Pyrithione, Ethylene Glycol Di Stearate, Allantoin, Ethylene Di amine Tetra Acetic acid, Panthequat, Methylparaben, Propylparaben,Triquat, Cassia alata, Wrightia tinctoria, Aloe vera, Demineralised Water, Perfume, Colour.
Usage
Apply on wet hair, massage into scalp and rinse. For best results, use as a regular shampoo.

Just feel the results…. be sure and be distinctive
FAQs
I have used many anti-dandruff shampoos. What is unique about Verdura anti-scaling scalp shampoo?

Verdura anti scaling scalp shampoo contains dual anti dandruff agents like Climbazole and Zinc pyrithione along with herbal actives makes this efficient to clear scalp scales and fungi which are helpful in psoriasis, dandruff and seborrheic dermatitis.
How long should I use Verdura anti-scaling scalp shampoo?

It can be used as a regular shampoo to keep hair free from scalp scales and dandruff as it also comes with conditioning effect.
Can I use Verdura anti-scaling scalp shampoo every day?

Yes, Verdura anti scaling scalp shampoo can be used regularly.
Most anti-dandruff shampoos leave hair dry. Will this shampoo cause dryness?

No, this shampoo will not leave the hair dry. The select conditioners give soft, manageable and tangle free hair.