The radiance duo of able products


Verdura anti acne pack & Verdura Skin brite cream 
· Clears acne
· Controls sebum secretion
· Prevents comedones
· Fights on microbes
· Fades dark spots and post pimple marks
· Brightens up skin and gives even skin tone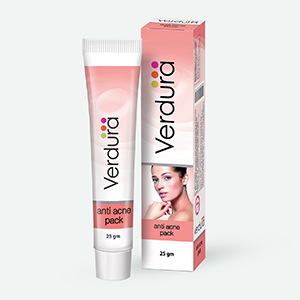 Targets microbes that cause acne and reduce infection. Removes comedones (Black heads and white heads). Reduces sebum and post pimple marks. Removes skin clogging and occlusion .Reduces darkened skin around the neck. Offers sun protection. Gives blemish free and even toned skin. Hypoallergenic and safe for long term use.
Offers skin lightening. Brightens skin complexion .Tightens facial skin. Provides nourishment and hydration to skin. Reduces facial lines and wrinkles.
Usage
Apply sufficient quantity of pack everyday over the entire face covering the pimples. Allow it to permeate into the skin for 10 minutes. Wash face gently after the face dries. Use twice a day. Continue usage until pimples completely subside. Once the pimples are cured, use thrice a week regularly. Replace cap tightly after use.

Apply liberally on cleansed face, neck and required areas twice a day .Give a gentle massage. For best results, use every day.